Riverdance – The 20th Anniversary World Tour Preview


One of the most-loved productions in dance history is coming to
The Venetian Theatre Jan. 24 to Feb. 5, 2017

(Macao, Jan. 9, 2017) – Riverdance – The 20th Anniversary World Tour and The Venetian® Macao hosted a preview today of what audiences can expect when the much-loved show opens at The Venetian Theatre, The Venetian Macao, from Jan. 24 to Feb. 5, 2017, for a limited season. Tickets for the international phenomenon are on sale now at all Cotai Ticketing box offices, and prices start from MOP 288.
Riverdance is an innovative and exciting blend of dance and music that draws on Irish traditions and has been seen live by over 21 million people worldwide, capturing the imagination of audiences across all ages and cultures.
As well as introducing the two talented lead performers, William Byrant and Lauren Smyth, the preview provided an insight into how the show, one of the most popular dance productions of all time, has evolved since beginning its journey as the interval act in the 1994 Eurovision Song Contest. While still loosely based around the story of the Irish diaspora, and continuing to enthrall with its power, precision and sensuality, fresh elements have been added to this tour which see new costumes, lighting and projections and the addition of a brand new song, "Anna Livia", featuring the female members of the dance troupe in an a cappella hard-shoe number.
Riverdance – The 20th Anniversary World Tour also incorporates thrilling international flavours, such as flamenco dancing and an acrobatic Russian ensemble. A definite crowd pleaser is the humorous routine 'Trading Taps', which pits Irish and tap dancers against a New York backdrop.
As one of the world's top theatrical productions, Riverdance has been dubbed an "evergreen Broadway show", "Irish national treasure" and "world's dance textbook". During the past 20 years it has staged over 18,000 performances, won over an audience of 36 million at more than 117 countries and region. Its soundtrack has been recognised by the Grammy Awards as Best Musical Show Album, and is certified platinum, selling more than 11 million albums, making it the number one in theatrical show soundtrack history.
Riverdance represents not only the peak of performance art, but also the spirit and courage to challenge and endure adversity. The feel-good show spreads a positive life attitude.
For the 20th Anniversary World Tour, the original Riverdance team of composer Bill Whelan, producer Moya Doherty and director John McColgan have been reunited. The set design is by Robert Ballagh, lighting design by John Comiskey, costume design by Joan Bergin and sound design by Michael O'Gorman.
For more information, please visit:
Website: www.riverdance.com
Facebook: www.Facebook.com/Riverdance
Twitter: @Riverdance
Instagram: @Riverdance_Official
Snapchat: riverdance-real
Ticketing details:
Event Riverdance – The 20th Anniversary World Tour
Date and Time Jan. 24 – Feb. 5, 2017
8 p.m. (Tuesday – Friday)
2 p.m. and 8 p.m. (Saturday)
2 p.m. and 6 p.m. (Sunday)
Venue The Venetian Theatre, The Venetian Macao
Ticket Prices
MOP/ HKD 888 (VIP Reserve)
MOP/ HKD 688 (A Reserve)
MOP/ HKD 488 (B Reserve)
MOP/ HKD 288 (C Reserve)
Ferry Packages Add MOP/HKD 108 to ticket price for a round trip Cotai Water Jet ferry ticket between Hong Kong and Macao
Ticketing Outlets Cotai Ticketing
· Online: www.cotaiticketing.com
· Box offices:
· Box offices:
o The Parisian Macao - Main Lobby Box Office (Level 1) and Parisian Theatre Box Office (Level 5)
o The Venetian Macao – Cotai Arena and Main Lobby box offices
o Four Seasons Hotel Macao – The Plaza™ Macao box office
o Sands® Macao – Level 1 box office
o Sands® Cotai Central – Sheraton Main Lobby and Holiday Inn Main Lobby box offices
· Phone:
o Macao: +853 2882 8818
o Hong Kong: +852 6333 6660
o China toll-free: 4001 206 618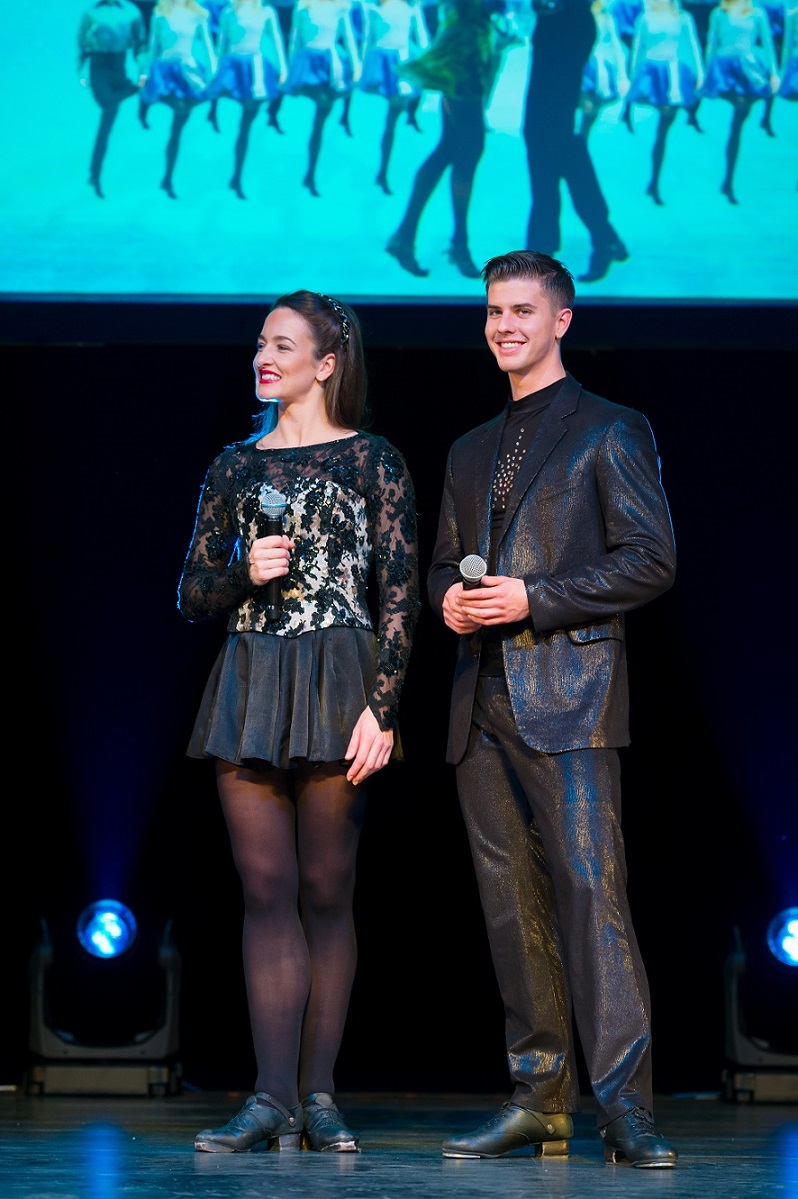 Photo caption: Riverdance dancers Lauren Smyth and William Bryant gave a thrilling preview of what audiences can expect at the upcoming Macao season.
---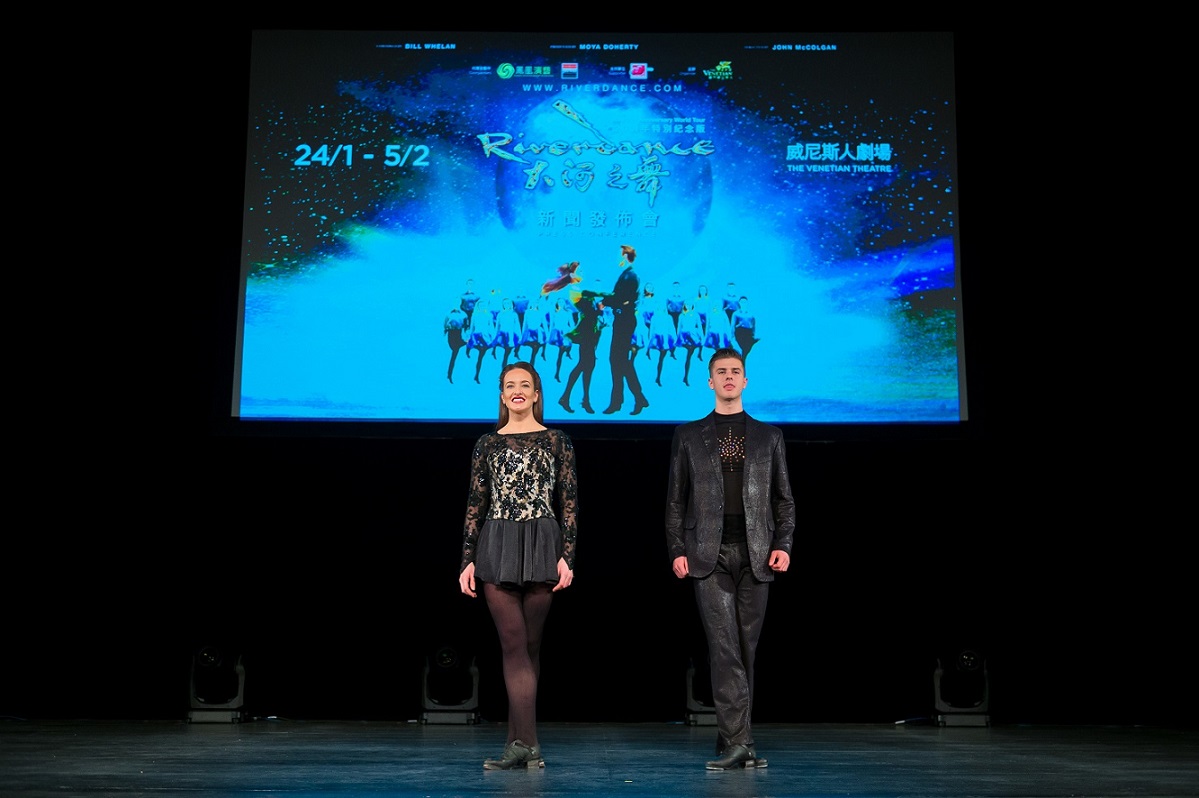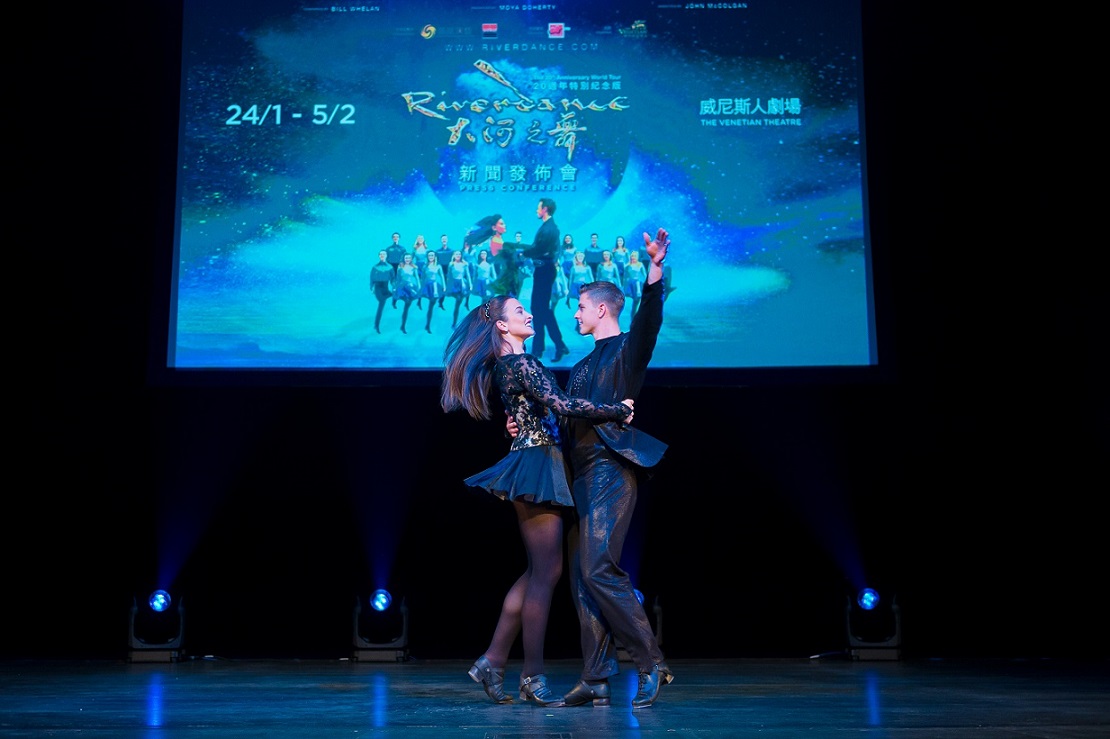 Photo caption: Catch the energy, sensuality and spectacle of Riverdance – The 20th Anniversary World Tour, at The Venetian Macao's The Venetian Theatre between Jan. 24 and Feb. 5, 2017. Tickets are on sale at all Cotai Ticketing box offices.
---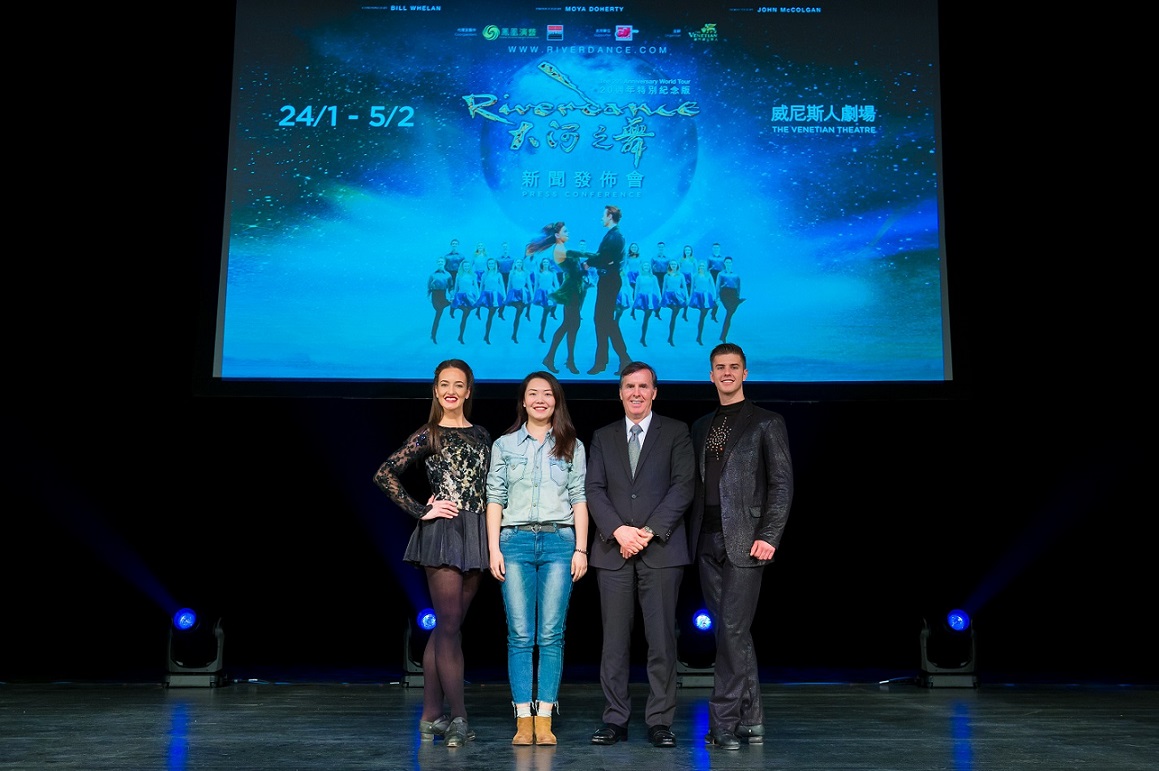 Photo caption: Dave Horton, global chief marketing officer of Las Vegas Sands Corp & Sands China Ltd. and Wenwen Xie, project operation director of Beijing Joyway Promotions at the preview of Riverdance – The 20thAnniversay World Tour.
Left to Right: Lauren Smyth, Wenwen Xie, Dave Horton and William Bryant
---
Entertainment at Sands China Properties
Sands China Ltd. has as a clear vision to establish Macao as Asia's top entertainment destination.

The 15,000-seat Cotai Arena and 1,800-seat Venetian Theatre are the only venues in Asia ranked in Pollstar's Top 100 Worldwide Arena Venues and Pollstar's Top 200 Worldwide Theatre Venues based on ticket sales. It is the top entertainment destination in southern China, hosting the world's and the region's biggest names in music, sports and awards shows. Superstars frequently choose the venue as the starting point of their Asian tours.

The 1,800-seat, multi-purpose Venetian Theatre is one of the most luxurious entertainment venues in greater China. Featuring ushers in black tie, champagne service, gourmet food and beverage items and other unique, premium amenities, it offers an intimate, luxurious and exclusive venue experience. The Venetian Theatre is playing a key role in bringing the best in international and Chinese entertainment to Macao, with a theatre experience like no other in the region.

The 650-seat Sands Theatre regularly features internationally-renowned singers, performers and artists of the highest calibre. From traditional Chinese-costumed dance to modern performances, everything from Western rock to Cantonese pop is covered.

The 1,200-seat, purpose-built Parisian Theatre is Sands China Ltd's latest entertainment venue. The Paris-style theatre offers an elegant experience for world-class entertainment of all kinds.

Offering world-class diversity and quality, Sands China Ltd.'s next generation of live venues is ushering in a new era of entertainment in Macao.

For information about upcoming shows and events, visit https://www.venetianmacao.com/entertainment.html.
Media contacts:
Public Relations, Venetian Macau Limited
Lily Cheng
Tel: +853 8118 2013
Email: lily.sw.cheng@sands.com.mo

Felicia Im
Tel: +853 8118 2296
Email: felicia.im@sands.com.mo
Appendix
Lauren Smyth
Lauren was born in Newtownards, Northern Ireland and she began Irish dancing with the St. Patrick's School of Irish Dance. She won many regional championships including the Ulster and Northern Ireland titles numerous times. Lauren transferred to the Reilly School of Irish Dance where her success in competition continued. She joined Rhythm of the Dance in 2007 where she performed the lead role for three years. In 2010 she then progressed to fulfil her lifelong ambition in joining Riverdance.
William Bryant
Born in Sydney, Australia, Will trained with the Halloran Dance School in Irish, ballet, contemporary and tap from the age of four. Will performed lead roles in musical productions and made regular appearances on TV. At University he studied a Bachelor of Music and is an accomplished guitarist. An ambitious athlete, Will is studying personal training on and off tour. Following an impressive competitive Irish dance career, placing top 3 internationally and winning state and national titles, he then went on to perform with Celtic Illusion and Heartbeat of Home. In 2014 he joined Riverdance, touring over ten different countries, and is thrilled to be joining the lead team.